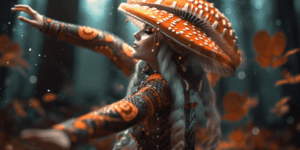 Welcome! this site is still under construction as we develop more products. Everything we make is small hand made batches from a personal advanced extraction laboratory specializing in meticulous exotic mushroom extraction. All the mushrooms we use are carefully selected for the highest quality and potency, no low grade product is used at any stage. AM extraction is a delicate art unto its self that we have developed over the past few years in order to specialize in AM Tinctures. We rely on a supply of only A+ closed caps from pristine forests from around the world through our personal relations with foragers from many necks of the woods.
This AM tincture is 60ml and contains more AM per bottle than any other on the market and has been refined to have clarity and a pleasant taste. A Muscarita tincture has been designed to be aprox 50/50 IBO/MUS conversion. A-Dreamer has shared ideas over the past few years to come up with an optimal recipe and methodology that honours the Spirit and the Science of the SacRed AM Mushroom.
NEW BATCHES ARE HERE!
NEXT SHIPPING WILL START NOV 20th
Thank you so mush! for your patients all who have been waiting for products to restock! It has been a very abundant AM foraging season here in western Canada for the past 3 months and it's not over yet. So working in the lab to create more products has been difficult to find time for with all the traveling to harvest AM and the drying and processing of the many dried Kgs we have found. This whole entire business from foraging to extracting to bottling and shipping as well as graphic and web design and networking is almost all done by one person! with a little help from some great friends. Thank you again for all your support as we continue to create this Artisan AM experience for you all with Love and Passion for the Forest and sharing her abundance!
Mush Love and Be Well! Mr. Muscaria.